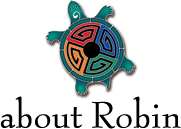 People often ask me if my name, Robin Eagle Sage, is real. The answer is yes. My given birth name from my parents is Robin Sage. My family tree indicates that the Sages originally came from Wales before they made it to the New World. It seems that my lineage is mostly English, Irish, Welsh and Celtic. MY DNA testing also shows that I am from the Iberian Coast which is Spain and Portugal. By past lives I am predominantly Native American, Italian and African. I feel honored to have a family name that is both a revered healing plant and a wise person.
Eagle is what I call my spiritual name. One day when I was living in Kyoto, Japan, I asked Spirit for a name that represented my true essence. The answer I received was Eagle. I didn't want that name, as it felt too strong and so I ignored the response. For the next few months everywhere I went I saw eagles and heard people talking about them. I saw eagles printed on trucks, on signs, in movies and everywhere I looked. I couldn't avoid them. Again, I decided to sit in meditation and ask for a new spiritual name. Much to my surprise, I received the same name; Eagle. And so it is! Since that day I have come to embrace the name. It wasn't until I met the famous eagle in Washington in 2009 named Freedom that I understood that although Eagle medicine is sharp and piercing, like the screech of their call or the sharpness of their beak and talons, but it is also powerful and healing. I am grateful to have such strong healing medicine within me.
Besides my love for helping people, I like to ride and train horses, kayak, paddle-board, do yoga, dance, hike, eat organic food and enjoy nature!
In 1999 I graduated from three different energy schools in the Bay Area after six years of study with the equivalent of a masters degree in energy reading and healing. For eighteen years I have worked as a professional medical intuitive, clairvoyant reader, energy healer, channel and teacher of intuitive development. To learn more about how I developed my clairvoyance, visit Robin's Education and How I Became Intuitive.
Because I read energy in my mind's eye, my clients may be in any location around the world. For this reason, I am able to work with people by phone or Skype internationally.
I give readings on all topics including: health, medical issues, soul purpose, trauma, chakras, auras, past lives, alien attack, spirit guides, deceased loved ones, finances, business, career, location changes, goals, relationships and animal communication. My specialty is healing medical issues and helping people manifest financial success.
I am able to help people with physical, mental, spiritual and emotional issues of all types. People with back pain, cancer, sciatica, herpes, migraines, anxiety, night mares, trauma, past lives, depression, low self-esteem, etc., have said that they have found physical healing and emotional relief after my sessions. What I believe is that unhealed emotional issues from either your childhood, yesterday or a past life cause physical pain and maladies. Therefore, when I give a reading I always address unresolved emotional issues that I find when scanning your body.
 I have a vast understanding of how energy works including health, diet, happiness and the art of manifesting goals. I enjoy helping people get to the root of their issues, break through their blockages and heal. During an energy reading and healing I transform physical dis-ease and negative emotional/mental patterns (addictions) into healthy living cells, positive action, emotional clarity and spiritual fulfillment. Clarity, love, light, joy, health and freedom are always the guiding light in every session.
In 1999 I opened my own school of clairvoyance called, The Sage School of Light. I currently teach intuitive development classes on the telephone in weekly group conference calls called the Empowerment Program. Working over the phone allows students to study with me from around the world. This is magical and teaches the student to be able to give readings to their clients over the phone world-wide to increase the volume of people they may serve. I also teach the same Empowerment Program for auditors who want to listen to class recordings from my website's Members page in their own time. Click HERE for information about classes.
All of life's answers can be found by tuning into the energetic frequency of a person's soul in conjunction with the Oneness of the Universe. This can be taught and learned which is why I teach energy reading and healing (clairvoyance) at my school The Sage School of Light.
It's exciting to teach other people the unique skill of clairvoyance. Most people believe that reading energy is a gift that one must be born with, but this is not true. Just like any skill, energy reading must be learned and practiced in one form of school or another, in order to advance. People become empowered when they learn how to read energy and actualize their own guidance system. It gives them a whole new sense of peace, inner knowledge and freedom. It is also a great way to help others create a fulfilling career.
I also train massage therapists to read energy, as it is so much easier to heal muscle pain when you can actually see where the root of the physical, emotional and mental pain is coming from. For example, a pain in the sacrum may be the result of a cranial injury in the head, which is in the opposite part of the body. If you can't follow the energy pattern to find the root of the problem in the head and release it first, you may just be massaging the sacrum forever without any relief! That's why energy reading and healing is so important for healers of all types. It gets to the main root of the physical and emotional issue in record time.
The Universal laws of energy, such as the law of attraction, are an important aspect of my teachings. They were partially inspired by the Abraham teachings, (see Suggested Book & Movie List) who teach how to manifest happiness, abundance and health.
Thank you for reading about my story!